This map shows the location of visitors to the
AGC website (starting from 8th July, 2013).
Click on the map to go to the 'Revolver Maps' website, to see more detailed information.
Within the Revolver Maps website, you may also click on the:
"2D" icon, to get a 2-dimensional view. In this view, you may zoom-in and pan (similar to the controls on Google Maps).
"3D" icon, to zoom around the globe etc.
"Bars" icon, to get statistical information in a bar-chart view.
To return here from the Revolver Maps
website, use your "Back" button.
Welcome to Awali Golf Club, Bahrain - fun the priority, playing golf the means
... more ...
All

the news
Results:
New R&A Rules for 2019
Hope to see you at the Club soon ...
Regular Wednesday evening Socials
at the floodlit range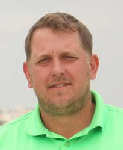 Lights! Action! Fun!
This coming Wednesday 22nd November, we kick off the once-monthly floodlit evening socials at the Range. Open to all members, Rory Young (our resident Professional) will be the master of ceremonies with a variety of just-for-fun competitions, between 6pm and 8pm.
Despite the beady eye of the Club's Treasurer and his furrowed brow, there will be a free barbecue as well.